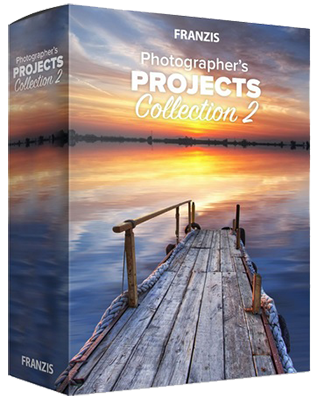 Franzis Photographer's PROJECTS Collection v2.0.0 x64 - ENG
Questa raccolta contiene i prodotti più popolari delle serie di progetti di progetti FRANZIS:
- SHARPEN projects photographer
- DENOISE projects 2
- HDR projects 5
- NEAT projects
SHARPEN projects photographer
Le immagini per essere sorprendenti richiedono sufficiente nitidezza. Nessuna fotocamera digitale nel mondo scatta immagini solo perfette, perfino i fotografi più esperti commettono errori! Immagini sfocate o poco nitide sono state scartate fino ad ora anche quando i loro soggetti erano molto attraenti. Con il fotografo per progetti SHARPEN, questa pratica diventa una cosa del passato. Il fotografo di progetti SHARPEN è la scelta migliore per rimettere a fuoco i tuoi scatti, non sono richieste competenze da esperti!
DENOISE projects 2
Attualmente è l'unico plugin che permette di diminuire il rumore dell'immagine nelle sue forme: luminance noise, colour noise, banding, colour clouds, hot pixels. La tecnologia Pattern Matching di nuova concezione elimina perfettamente il rumore dalle immagini pur mantenendo i colori, la nitidezza e dettagli più fini e può essere utilizzato come plugin per Photoshop ed Elements.
HDR projects 5
Permette a tutti gli appassionati di fotografia di creare bellissime immagini in 32 bit contenenti tutte le informazioni sulla luminosità del mondo reale, non solo informazioni parziali, come le fotocamere digitali.
NEAT projects
NEAT è un software in grado di rimuovere in maniera automatica oggetti indesiderati (turisti, macchine ecc) che ostacolano e imbruttiscono principalmente la fotografia di paesaggio. Un algoritmo intelligente consente di rilevare da una serie di immagini (raw o Jpeg) le porzioni che non presentano disturbi e utilizzarle per ottenere un immagine libera.
Screen
Requisiti:
Microsoft Windows 7 e oltre
BUON DOWNLOAD
https://www.filecrypt.cc/Container/3B2E3E13C2.html
Information
Would you like to leave your comment? Please
Login
to your account to leave comments. Don't have an account? You can
create a free account
now.